Simple Gifts Workshops
"I've rarely seen instructors–of music or much else–who are as together, personable, friendly, and generous with their knowledge. And it's all supported by formidable talent and knowledge of several musical genres."
–Marguerite Plank, Gettysburg Workshops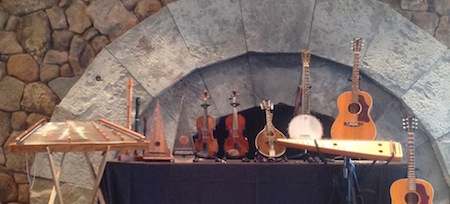 Simple Gifts loves to share music, whether they are at a weekend festival, a school assembly, an informal jam, or a university master class. Workshops can range from half an hour to a full weekend.
Weekend Camps for Musicians
Folk College (May 26-28, 2023)
Musicians of all instruments and levels join together at Juniata College in central PA for a weekend of music workshops, jam sessions, concerts and coached group playing. This annual event was founded by Simple Gifts member Linda Littleton, who serves as Artistic Director, and features world-reknown artists such as John McCutcheon, Bruce Molsky, Rory Block, and Mark O'Connor.
Greenwood Furnace Folk Gathering (September 6-8, 2023)
Presented by Simple Gifts and the Huntingdon County Arts Council, this event welcomes musicians of all instruments and levels to a weekend of workshops, jamming, concerts, and a contradance. Held at Greenwood Furnace State Park in central PA, a gorgeous location with hiking trails, camping, sandy beach, and lake swimming.
For All Ages
Learn to Play Spoons!
In their most frequently requested workshop, Simple Gifts teaches participants of all ages to play spoons, following in the Appalachian tradition where two teaspoons are held in one hand and played as a percussion instrument. Once everyone has the hang of it, Simple Gifts introduces the rudiments of arranging music:where to play loud or quiet, how to vary the rhythm, and how to choose sounds that match the music. To top it off, workshop participants (especially children) are invited to perform on-stage with Simple Gifts if a concert follows the workshop.
I Wish I Played an Instrument
Simple Gifts demonstrates ten folk instruments, working from easiest to hardest. They'll point out the pros and cons of playing each, tell people how to get started, and answer questions. This workshop pairs well with "Let Me Try That!", listed below.
School Programs [Download school press kit]
Assembly programs
Educational assembly programs are available for any grade level from preschool through high school and include age-appropriate discussions about the instruments, musical styles, and diverse cultures represented. Programs are planned so that each piece introduces a new ethnic style or a new instrument. Questions are encouraged, and students are invited on stage to participate. The goal is to get students fired up about music––to have those already involved with music be glad that they are, and to have those who don't play an instrument wish that they did. These programs are educational, multicultural, interactive, and fun! (no attendance limit)
Learn to Play Spoons!
Children learn the Appalachian tradition of spoons playing, following in the Appalachian tradition where two teaspoons are held in one hand and played as a percussion instrument. Once everyone has the hang of it, Simple Gifts introduces the rudiments of arranging music: where to play loud or quiet, how to vary the rhythm, and how to choose sounds that match the music. This is our most frequently requested workshop and is appropriate for grades 3 through high school. Spoons playing can be taught during an assembly program for up to 100 students, or it can be taught to a smaller group before the concert with a goal of having the new spoons players join us during the concert. For younger students, we do something very similar but use simpler percussion instruments.
Let Me Try That!
Several of Simple Gifts' less fragile instruments may be handled and played by students with instruction from the musicians. This workshop has been responsible for many children choosing to play an instrument! (Limited to 10-20 students depending on age.)
Ukulele
Ukulele is an excellent introduction to guitar, since it's the same as the upper four strings of guitar. Simple Gifts provides the ukuleles, and in 45 minutes to an hour students learn two to three chords and the basics of strumming and fingerpicking. They're then ready to perform with us during an assembly! Ideal for fourth to sixth grade. A simpler version of this workshop can be taught to second and third grade, and a more advanced version for grades 7-12. This is a good choice for a middle or high school general music class.
Bowed Psaltery
The bowed psaltery is a simple string instrument that introduces use of the bow. Learning bowed psaltery gives students a feel of what it would be like to play a violin or cello. Simple Gifts provides the instruments, and in 30 to 45 minutes students learn how to draw the bow and then learn a simple song. They're then ready to perform with us during an assembly! Ideal for second to fifth grade, but also ok for older students.
Folk Guitar
Students who play guitar learn folk techniques including chord progressions, strumming patterns, taking a lead, and being a sensitive backup musician.
Playing Folk Music
Middle or high school students who play in the school orchestra or band will learn a piece of folk music by ear and then work on the subtleties of creating an interesting folk music arrangement. Ideally this session would be half a day or longer, with an opportunity for the students to perform, but it's also possible to do a shorter version.

For College Students or the General Public
Ethnic Music Presentation
Simple Gifts demonstrates and explains the wide variety of instruments and styles they play and introduces the audience to the stylist differences of genres such as Romanian, Klezmer, Greek, Irish, Appalachian, and Swedish music. Appropriate for college students in Music, International Studies, or History classes. For the general public, this is best as a pre-concert talk.
The Folk Process
This lecture-presentation explores the essence of folk music. How is folk different from other styles, and how does folk music develop and evolve? In particular we look at the creative process that folk musicians follow to take a simple melody and mold it into an interesting performance piece.
Women and Music
In this presentation, Simple Gifts explores, through demonstration and discussion, the roles of women in traditional music. In particular, they will discuss their experience as women musicians and obstacles that women often face in becoming professional musicians. This lecture is especially appropriate during Women's History Month.
Post-Concert Workshop
After the concert, audience members have the opportunity to talk one-on-one with the musicians, to see their instruments up close, and to ask questions. Several of Simple Gifts' less fragile instruments may be handled and played by audience members, and the musicians will give a mini-lesson to groups of people who gather around these instruments. In the past, this sort of session has encouraged children to take up an instrument, and has helped adults who thought they had no musical talent to start playing instruments such as hammered dulcimer, bowed psaltery, and folk piano.

Playing Ethnic Music (for college or high school students)
Student musicians in the band or orchestra will learn an ethnic tune by ear and then explore the process of molding it into a performance piece. Depending on the level achieved, the group may have an opportunity to perform with Simple Gifts. In addition, any of the workshops under "For Musicians" can be presented for college students who play an instrument.

For Musicians
Three-Day Intensive
Usually held over a weekend, this workshop is for all instruments and levels. Friday night jamming and trying instruments. Saturday morning long workshop "Folk Music Skills". Saturday afternoon "Playing in a Band" (as described next). Saturday evening open mic. Sunday rehearsal and public concert.
Playing in a Band
Intended for musicians of all instruments and levels, this workshop addresses issues of arranging and performing folk music. Topics include improvisation, chord theory, backup techniques, creating harmonies, varying the band's sound, and ideas for sounding more professional. A goal is for the participants to arrange a piece of music to be performed onstage with Simple Gifts during a public concert that follows.
Folk Band
Participants of all levels and musical backgrounds join together to form a band. With guidance from Simple Gifts, the group arranges a piece to perform during Simple Gifts' concert. All instruments (including voice) and levels (including total non-musicians) are welcome. There's a place for everyone in this band!
Let's Fiddle Around
Violinists learn "fiddle tunes" and explore the techniques needed to give them a folksy feel. This workshop can be given for children, adults, or mixed ages. Similar workshops are available for guitar, mandolin, and banjo.
Guitar Techniques
Guitar players learn right and left hand techniques, approaches to playing in a group with multiple guitars, alternate tunings, and more as interests and time allow.
Let's Jam!
There's nothing like a jam session for learning new tunes and sharing the joy of making music! Generally held immediately after a concert, local musicians bring their instruments to play and sing together. Simple Gifts encourages participation by choosing well-known songs and calling out the chords and notes to be played. Non-musicians are welcome too: they can sing, play percussion instruments provided by Simple Gifts, or just revel in the excitement of musicians connecting through music.
---